STONEDOG PRODUCTION
AN INTERNATIONAL FILM COLLECTIVE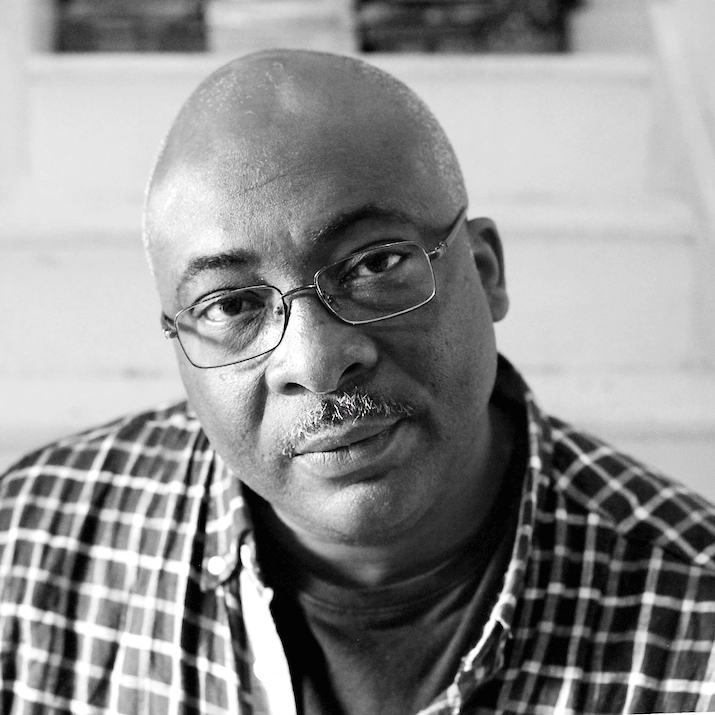 Ishmael Annobil is a London-based filmmaker, poet, art critic, photographer, emblemist, drummer and digital composer. Born in Accra, Ghana, in 1958, Ishmael started writing poetry at the age of eleven, and entered journalism soon after high school. He has lived in Southern Sudan and Kenya, where he performed his acclaimed poetry show, Criers on the Thresholds of Reality, for the homeless. He came to London, in 1983, as the correspondent of a Kenyan magazine. In 1987 he moved with his family to Wales, where he lived for eleven years, and founded the international poetry festival, Iolo's Children, and Wales' first serious arts publication, Circa21 Newspaper.
Ishmael has directed several keynote art documentaries for Stonedog, including Kenji Yoshida: Artist of the Soul; In the Presence of Awe: The Transvangarde, and Hornsleth: Product of Love. His surreal fictional feature, Salamander Walks, is currently in post, and his forthcoming fictional films include Icarus, a folksy Sci-fi set in Yorkshire, and Drosophila, a psychological thriller, and The Symposium, a unique film, exploring the unspoken tensions between Britain's cultures. He is currently producing and directing a definitive documentary about American artist Linda Karshan, Choreographing the Page, and a documentary tribute to the Late Jose Ferez Kuri, international curator, agent, essayist, aesthete, and agent/friend of the great artists, Brion Gysin, William Borroughs, and Kenji Yoshda. Since 2018, he has been collaborating with Linda Karshan on her groundbreaking 'walked drawing' genre, which has won unprecedented plaudits internationally, leading to an installation at the inaugural Draw Art London Fair, Saatchi Gallery, London, May 2019. Ishmael's filmmaking skills include, screenwriting, producing, directing, and cinematography, and he is equally at home in documentary and narrative fiction. 
A master photographer, and pioneer of important low-light techniques, his photography has also been published in prominent publications, including The Independent Newspaper, and the prestigious French magazine M3. He  has published two books of poetry, Seven Horn Elegy and Ethiop, a major photographic monograph, Insomnia, and one music album, Zingliwu. He enjoys the rare honour of being anthologised in by The Poetry Foundation of America and Tupelo Press in Another English: Anglophone Poems from Around the World (2014).
Known to most as a diehard artist, Ishmael also enjoys a strong business pedigree, dating as far back as 1987, when, as a publisher, he was a bearer of the exclusive Department of Trade and Industry credit card. Thwarted by unscrupulous bankers, he used his business nous to develop a non-cash-dependent system for projects such as Circa21 Newspaper and Stonedog Productions. In essence, he sees every creative project as: "essentially, a pooling of ideas and skills between artists, which must be only minimally dependent on finance.". Above all, he champions working environments that are free of apparent hierarchies.
Ishmael attended Christian Methodist Secondary School (Ghana), studied Social Anthropology extramurally at Goldsmith's College, and he took a PgDip in Visual Communications at West Herts College. His hobbies include travel, and cooking, which won him a two-page spread in the Observer Food Monthly, in 2001. A prince of the Twafo warrior clan of Winneba, Ghana, Ishmael is passionate about loyalty and honesty, and he abhors all forms of misogyny and ageism.  
He is the Founder/Chief Executive Producer of Stonedog Productions. 
Websites: