STONEDOG PRODUCTION
AN INTERNATIONAL FILM COLLECTIVE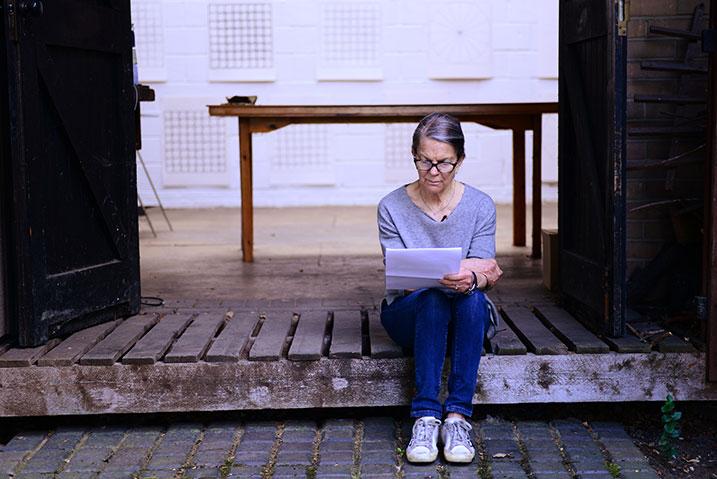 LINDA KARSHAN: COVID-19 CONVERSATION
WINNER
BEST COVID-19 SPECIAL FILM
LULEA INTERNATIONAL FILM FESTIVAL, 2021
DIAMOND AWARD WINNER
BEST COVID-19 DOCUMENTARY
NAWADA INTERNATIONAL FILM FESTIVAL, 2021
While under Covid-19 lockdown in New York, Linda Karshan recalled her father's crippling polio affliction in the 1952/53 epidemic, the social alienation, and his gallant battle against it. This inspired her to "push back" by producing her most prolific body of work to date, "…because I can stand, and he could not." Covid-19 Conversation shows Linda Karshan at her most eloquent, offering a rare insight into her inner and outer impulses during her "channelling" of the unique art pieces, and the influential role played by her agent, Jill Silverman Van Coenegrachts, throughout that process. It is richly interspersed with family photography, and it also offers a mesmerising tableau of the actual Covid Works Linda created during her lockdown epiphany.
This uniquely lyrical film is underpinned by poignant anecdotes from the collective memories of Linda's family, and the heroism of her father, Roger E. Joseph, a decorated World War II hero, who outlived his doctor's pessimistic prognosis by sixteen years, during which he resumed his legal practice in his family's law chambers.
Directed by London-based Ghanaian filmmaker and poet, Ishmael Fiifi Annobil, COVID-19 CONVERSATION has won the Best Covid Special Film Award at Luleå International Film Festival (Sweden); and Best Covid-19 Ducumentary Film at Nawada International Film Festival (India). It is also Finalist a the Sweden Film Awards and Nawada International Film Festival for Best Documentary Film; Official Selection by Florence Film Awards (Italy); Official Selection by Hollywood Blvd Film Festival (USA); Shortlisted by ARFF Berlin Film International Awards for Best Documentary (Germany); Nominated by Five Continents International Film Festival (Venezuela), and Official Selection by Cinalfama International Film Screenings and Awards (Portugal). 
"Covid-19 Conversation is a testament to human resilience, and to the role of memory in the mark making of artists. It is Linda's requiem for her father," says Ishmael Fiifi Annobil. 
TRAILER: https://youtu.be/kaS_NHSi4YA
WEBSITE: www.covid19conversation.info
Producer/Director/Editor: Ishmael Fiifi Annobil 
Associate Producer: Jill Silverman van Coenegrachts 
Cinematography/Sound: Max Mallen 
Audio Post-Production: Nick Kulukundis