STONEDOG PRODUCTION
AN INTERNATIONAL FILM COLLECTIVE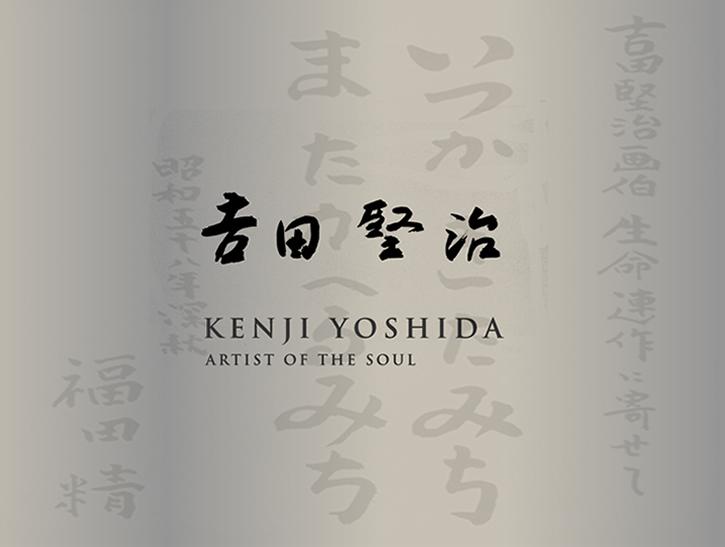 Kenji Yoshida - Artist of the Soul is an in-depth profile of the 83 year-old former Kamikaze pilot and Avant Garde artist, Kenji Yoshida. Directed by Ishmael Annobil, this lyrical film is the first ever feature about the artist. Shot with rudimentary equipment, and without external sound recorders, Kenji Yoshida-Artist of the Soul exemplifies instinctual filmmaking, and its director's journalistic pragmatism. Classically, this historical film about one of the greatest artists of the 20th and 21st Centuries was shot on a sub-micro budget.
The film presents a rare interview with Yoshida, intercut with eloquent analyses and anecdotes by his agent, curators and friends. It also explores the fact that, despite his historical status as the only living artist to be given a solo exhibition at the British Museum, Yoshida remains relatively unknown in Japan. 
Yoshida had moved to France, after WWII, to expand his understanding of other art forms and cultures, understudying contemporary masters of print making, such as Irishman Stanley Hayter, subsequently receiving a free house and studio from the French government. He later travelled many parts of the world, including Israel, where he worked in a Kibbutz, and also Mexico, where he made throwaway calligraphic scrolls of the local flora and fauna, on kraft paper. Saved from the dustbin by his agent, Jose Ferez Kuri, the scrolls would later inspire the British Museum to grant Yoshida his unprecedented solo exhibition in 1993 (the first and last solo exhibition by a living artist at the British Museum).
Despite his refined and pioneering work, Yoshida only sold his first painting at the age of 53, after working for many years as a waiter and fishmonger in Paris to finance his art practice. Luckily, the French government had given him free accommodation/atelier, enabling him to be prolific and experimental throughout. He spoke little French and an archaic Japanese, which made him almost language-less to most people, and yet everyone understood him completely, as though he transmitted his thoughts rather than words. 
Central to this film is Yoshida's profound spirituality and his philosophy on life. Almost all his paintings are titled 'La Vie', Life or the Act of Living. He owed this to his experiences in WWII and what his art teacher had told him before it: "Take up the paintbrush, not the gun." Yoshida believed that when his teacher died after the war, he left him the legacy to capture life: "Before the war I thought with his head, but after the war I learned to think with my soul". This underlined his belief that he embodied the spirits of his departed friends and family. 
In later years, Yoshida moved on from the perfection of black and white pigments and embraced resplendent metal colours, because he believed that God was gold and silver in complexion. The film is marked by delectable tableaux of Yoshida's work through the ages, from prints to his massive, spare canvasses which are known to reduce audiences to tears. 
Kenji Yoshida - Artist of the Soul was shot within the context of Inochi To Heiwa, 2007, Yoshida's third exhibition, at the October Gallery, London. It features interviews with his agent, Jose Ferez Kuri, Lawrence Smith (former Keeper Emeritus of Japanese art at the British Museum, and curator of Yoshida's major exhibition there), Elisabeth Lalouschek (Curator of Inochi To Heiwa), Chili Hawes (Director of the October Gallery), and music composed and performed specially by Joji Hirota at the Yoshida's British Museum exhibition of 1993, and also a live improvisation on flute, titled 'Improvisation pour la Vie' at the Inochi To Heiwa exhibition, 2007. 
Kenji Yoshida - Artist of the Soul was screened at UNESCO in October 2008 as part of Yoshida's testimonial exhibition Vie Et Paix. This gave Yoshida the opportunity to see his film. Sadly, he passed away soon afterwards, inspiring Ishmael Annobil and Jose Ferez Kuri to include his funeral/interment, at Montparnasse Cemetery, in the film. Almost a year to the day, Jose Ferez Kuri, too, passed away, in Yoshida's atelier, while cataloguing the master's works, and curating Yoshida's first posthumous exhibition for the October Gallery. 
Damian Kwasnik stands out as the editor who actually finished the film, in November 2014, seven years after the first shot. Part of Kwasnik's tasks included a forensic synching of film's audio, which had been previously been attributed solely to poor sound recording. Extra editing by Intern/Assistant Editor Sylvia Biagioni and student filmmaker Hannah Newman-Smart contributed invaluably to the finishing process.
Ishmael received generous support from various Japanese organisations and individuals, including Yuko Mukahira of Osaka based Documentary Workshop, who provided him with pre- and post WWII footage of Japan; the Hiroshima Peace Memorial Museum, who provided him with drawings by Hiroshima survivors; and the staff and management of the October Gallery, London. Legendary Japanese Taiko drummer and composer Joji Hirota scored the entire film.
Writer/Producer/Director: Ishmael Annobil | Cinematography: Ishmael Annobil, Abiy Mamo, Anita Keymatlian and Dave Butler | Editing: Damian Kwasnik Dave Butler, Merethe Rosvold, and Francesco Carradonna | Extra Editing: Silvia Biagioni and Hannah Newman-Smart | Associate Producers: Jose Ferez Kuri and Conrad Peters | Sound Post: Vanessa Tate and Dominique Devoucoux of Tate Post | Extra Sound Post: Tony Sheng and Ricardo Pujol | Music: Joji Hirota.