STONEDOG PRODUCTION
AN INTERNATIONAL FILM COLLECTIVE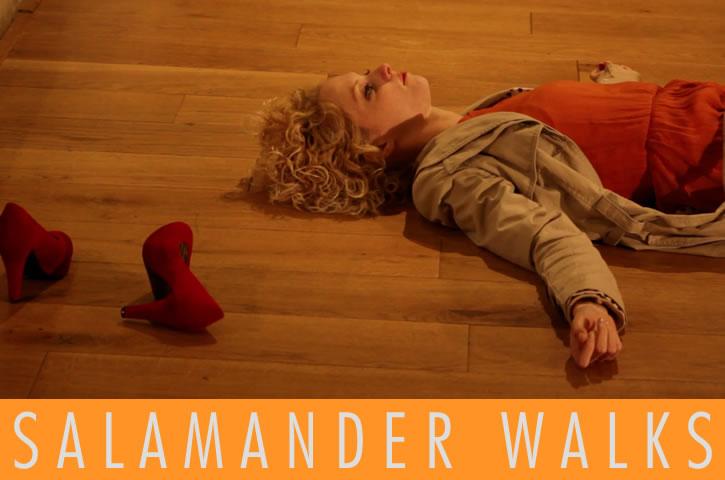 Salamander, a society lady on the verge of a nervous breakdown, retreats to a quiet place to find and debate with herself. But an all-knowing pseudo-priest, Orfeo, awaits her. He is determined to turn the whole thing into an uncomfortably dredging psychoanalysis, while she craves her own private contemplation and, possibly, a brutally simple solution. Meanwhile, a hit-man waits in the wings to finish her off.
Cornered by her own haunting memories, and jiggled by her nemesis/exorcist (Orfeo), she slips in and out of 'reason', and takes to deconstructing and abstracting language at will. But Orfeo is unshakeable; he travels the course with her, interpreting even her weirdest utterances with annoying precision, experiencing her hallucinations with her, till she finally cracks. Set in a monastery, this surreal piece establishes a seamless interface between reality and the surrealism of lunacy and dreams. 
A full feature, Salamander Walks was shot in three days, using multiple cameras, and on a sub-micro budget. It is currently in Post Production.
TRAILER: https://youtu.be/nj7sNsPJkHk
Cast: 
Lydia Hourihan - Salamander 
Conrad Peters - Orfeo
Glen John Baptiste - Hitman
Joan Plunkett - Lead Witch
Catherine Dunne and Elie Mitra - Junior Witches
Crew:
Writer/Producer/Director: Ishmael Annobil
Director of Photography: Ishmael Annobil
Camera: Hossein Taraz, Max Mallen, Ishmael Annobil
Sound: Simon Rycroft
Editors: Simon Rycroft, Hossein Taraz and Ishmael Annobil
Sound Consultant: Nikos Nikolalaios
Lighting Consultant: Ori Batut
Visual Effects:Simon Rycroft
Music: Ishmael Annobil
Technical Rehearsal Crew:
Camera: Damien Kwasnik, Max Mallen, Hossein Taraz, Kevin Adamson (Steadicam) / DOP: James Buck / Sound: Marco Iavaronne and Nikos Nikolalaios